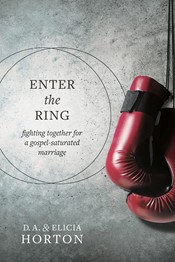 ebook available
Enter the Ring
D. A. Horton, Elicia Horton
Enter the Ring takes a fresh, powerful, vulnerable approach to marriage by framing it as the fight that it is. The world uses different assaults and tactics to distract us, tempting us to walk away, in order to destroy our marriages. But there is hope: The constant forgiveness, grace, and intervention of God can preserve and protect us from not only the world but also ourselves.

D. A. and Elicia Horton explore the tension of two people becoming one and how spouses often fight over which "one of us" they become. They unpack topics such as
Seasons of suffering
Communication
Sexual and physical intimacy
The spiritual life of the home
Money
This book approaches the traditional topics of a marriage book with the brutal and life-giving honesty of two millennials who have fought together for their marriage. All topics are addressed through the vulnerable lens of the authors' own struggles and mistakes.
This is a no-holds-barred, real-world . . . marriage book.
.PDF Excerpt

D. A. Horton
D. A. Horton is currently planting a church in Los Angeles. He served as the national coordinator...
Read Full Bio

Elicia Horton
Elicia and D.A. Horton have been fighting for their marriage for over 15 years. D.A. is w...
Read Full Bio