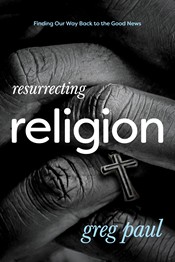 ebook available
Resurrecting Religion
Greg Paul
There's lots of bad religion out there. But the answer isn't no religion, it's true religion: living out—publicly and communally—what we say we believe privately and individually. True religion puts flesh on the bones of faith. Resurrecting Religion offers an inspiring, stretching vision for finding our way back to the good news of our faith.

At a time when most people practice their faith in the extremes—either extremely publicly, with a legalistic, combative tone that creates division, or extremely privately, to the point that our faith becomes functionally irrelevant—award-winning author Greg Paul offers a vision for religion that is good for us and good for the world.
.PDF Excerpt

Greg Paul
Greg Paul is a member and founding pastor of Sanctuary Toronto, a ministry and faith community serving marginalized communities in Canada's largest city. He is the author of several books, including the award-winning Twenty-Piece Shuffle and God in the Alley.
Read Full Bio