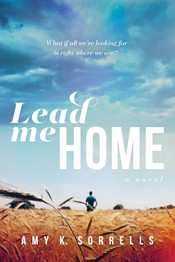 ebook available
Lead Me Home
Amy K. Sorrells
Amid open fields and empty pews, small towns can crush big dreams.
Abandoned by his no-good father and forced to grow up too soon, Noble Burden has set his dreams aside to run the family farm. Meanwhile, James Horton, the pastor of the local church, questions his own calling as he prepares to close the doors for good.

As a severe storm rolls through, threatening their community and very livelihood, both men fear losing what they care about most . . . and reconsider where they truly belong.
.PDF Excerpt
Amy K. Sorrells
Amy K. Sorrells is a long-time believer in the power of story to change lives. Her diverse writing career includes more than two decades of freelance writing, including medical journal publications and a popular op-ed newspaper column. The driving mission behind all her writing is to bring wor...
Read Full Bio